Now we're into British Summer Time, it's about time for an update.
It's been a busy few months since Christmas, sadly dominated by the passing of my father, Philip Sears. Phil founded Philip Sears Designs in 1980, and retired from the practice in 2016, shortly before being diagnosed with a very rare secondary cancer with no NICE-approved treatment. Phil was admitted to hospital at the end of January, and passed away with his family mid-February. His funeral was held at Clandon Wood Natural Burial Ground, with about 130 friends and family in attendance. Many thanks to Hannah Green, Sherlock Funeral Service, Merrow Savouries and Plant Passion for their help with the day.
If anyone would like to donate to The Institute for Cancer Vaccines and Immunotherapy, please do so here.
At the office, it's been a busy time with new enquiries, and there are some interesting projects on the horizon and on the drawing board. As well as a number of interesting residential extensions and alterations, I've been working on some portfolio repairs and refurbishments to properties in Dorking, Shere and Leatherhead. I have some projects on site in Dorking, Coldharbour and Bookham, and I'm looking forward to uploading some photographs as the projects complete in the next few months.
In the meantime, here are some before and after photographs for a basement conversion project nearby that we were involved with, completed by Surrey Basements. The Clients are very happy with the project, and I think it's come out very well.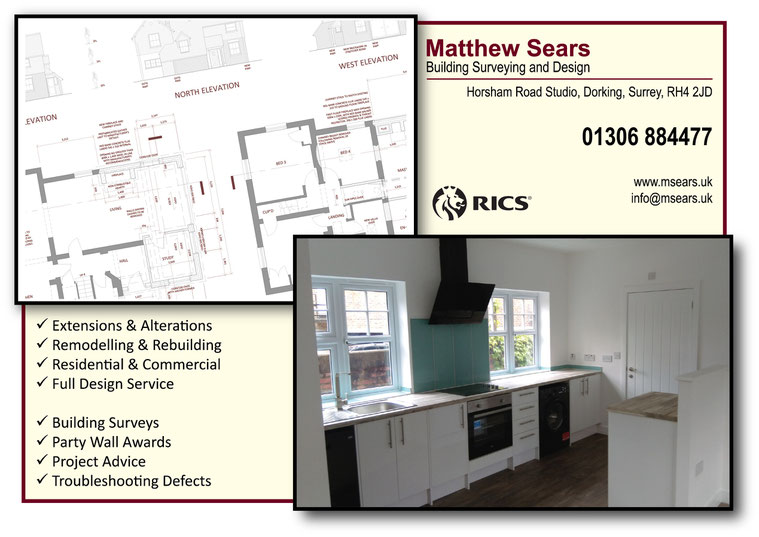 Please let me know if I can help at all with any property plans or concerns - I'll be very pleased to help.